MECHANICAL SERIES
POWERFUL V6 & IN-LINE 4
DF175A / DF150A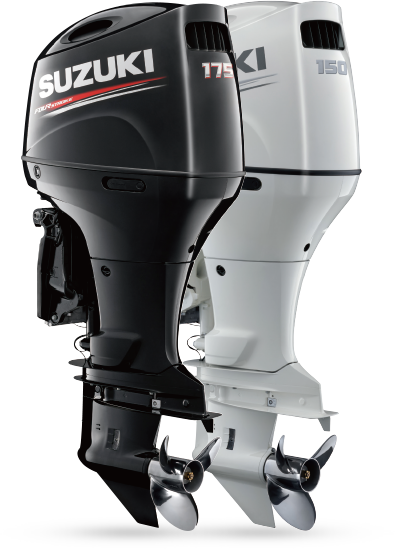 Powerful and quick. Clean and efficient. A 4-stroke for all purposes.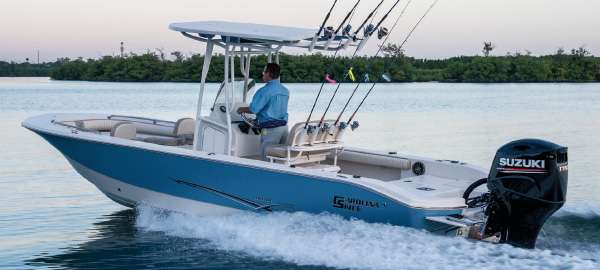 Fuel Efficient
With a combination of our Lean Burn technology, a semi-direct intake system and a high performance compression ratio of 10.2-to-1, these new outboards deliver clean, efficient power. Compared to the current 175 and 150, the DF175A is 14% more fuel efficient and the DF150A shows a 7% improvement for significant savings at the fuel dock.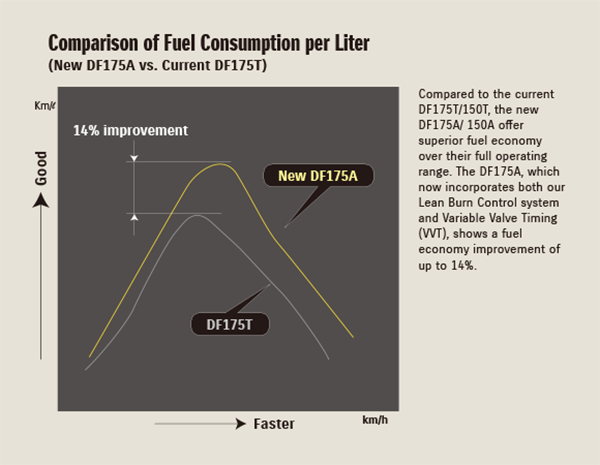 Powerful
With more torque (3.1% more for the DF150A and 2.7% more for the DF175A), as well as Suzuki's proven offset driveshaft layout with 2-stage gear reduction, these new outboards generate more power throughout the full rpm range. Even on heavier, fully loaded boats, the DF150A and 175A take performance to the next level.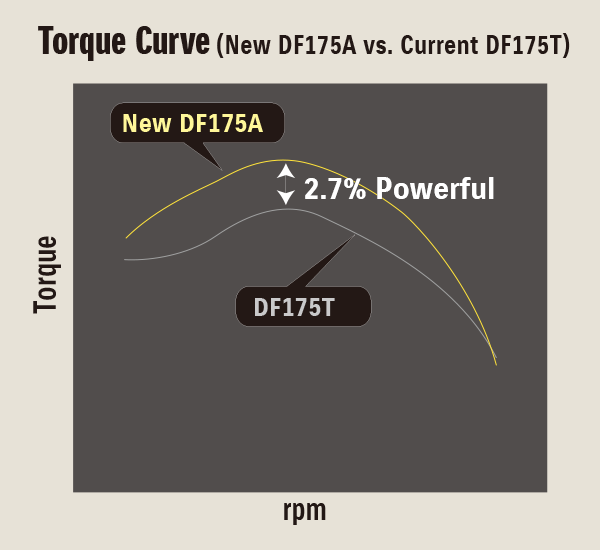 Quick Acceleration
The DF150A and DF175A now share the same engine block used for our popular DF200A. More displacement and improved mechanical design combine for quicker acceleration, whether out of the hole or in mid-range. We're satisfying our customers' desire for performance and improved fuel economy.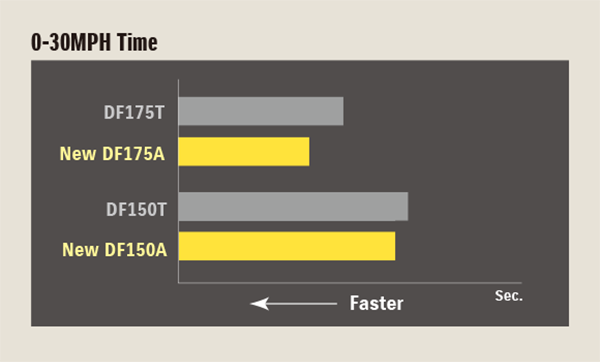 Reliable
These new outboards take full advantage of Suzuki's proven Ultimate 4-stroke technology to provide season after season of reliable performance. A knock sensor keeps the engine running smoothly for improved durability. An O2 sensor improves engine efficiency and Suzuki's water detecting system helps protect the engine from the effects of bad gas, which include poor combustion, lower power output and corrosion.
Data used in this product information was obtained through in – house testing under uniform conditions. Results will vary depending upon operating conditions.
Advanced Technology for the Performance
Offset Driveshaft
EXPLANATION
The engine powerhead is offset closer to the transom, moving the outboard's center of gravity forward.
ADVANTAGE
Less vibration
More compact engine
Stable steering performance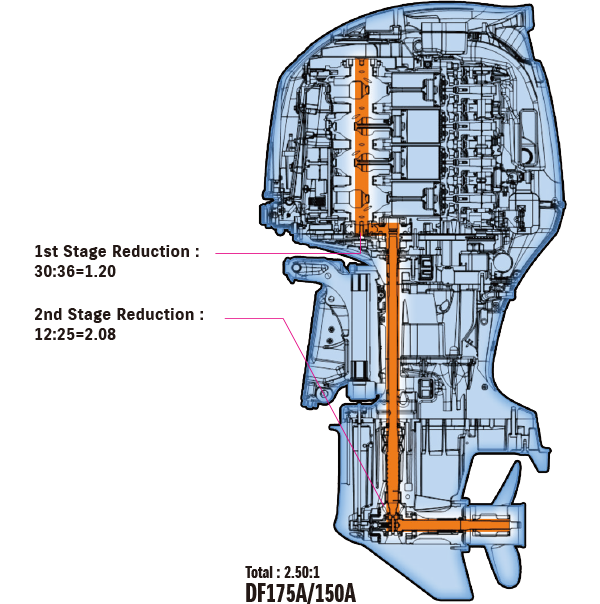 2-Stage Gear Reduction
EXPLANATION
This system which incorporates the Offset Driveshaft features a first stage reduction between the crankshaft and drive shaft and a second stage reduction inside the gear case. This design makes a larger gear ratio possible, allowing it to turn a large diameter propeller for high propulsive efficiency while providing greater torque.
ADVANTAGE
High propulsive efficiency with large diameter propeller.
Powerful navigation, maintaining propeller rotation even with a larger load.
Power to turn large diameter propellers, offering quick acceleration.

Multi-Stage Induction System
EXPLANATION
Intake manifold pipes are switched between short and long ones during low speed and high speed operation to ensure the right volume of air entering the engine.
ADVANTAGE
Increases output during high speed operation with greater volume of air input.
Increases combustion efficiency and maximizes torque by increasing the density in the air intake during low speed operation.
VVT (Variable Valve Timing)
EXPLANATION
The Variable Valve Timing is used to control the open and close timing on the intake valve depending on the engine operation.
ADVANTAGE
Offers smooth, powerful torque.
Provides tremendous acceleration during operation at all speed ranges.
Semi-Direct Air Intake System
EXPLANATION
This system brings cooler air directly into the multi- stage intake manifold, making it possible for the engine to operate more efficiently.
ADVANTAGE
Greater acceleration and top-end speed.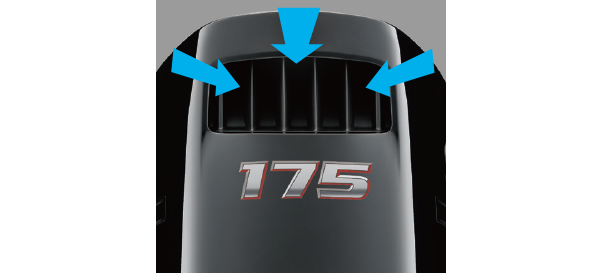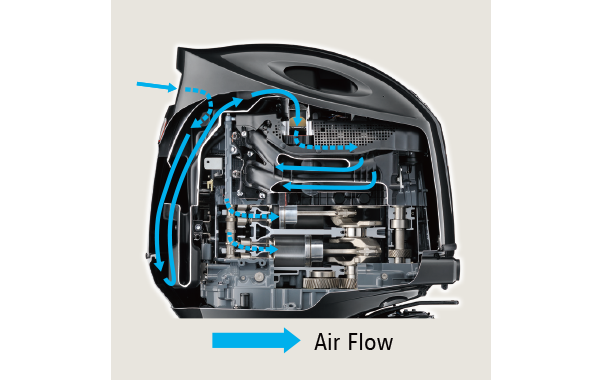 O2 Sensor Feedback Control System
EXPLANATION
This system provides accurate, real-time information Delete the ECU uses to manage the fuel/ air ratio as operating conditions change.
ADVANTAGE
Enables emissions to be clean and stable.
Helps maintain optimum engine operating efficiency across the engine's full operating range.
Lean Burn
EXPLANATION
The Lean Burn Control System supplies the right fuel and air mixture depending on the navigation conditions.
ADVANTAGE
Significant improvement in fuel economy in all speed ranges especially at cruising speed.
Fuel use and expense are reduced thanks to improved fuel economy.
Suzuki Anti-Corrosion System
EXPLANATION
Special protection is applied to the aluminum surface using high strength bonding to protect the aluminum made exterior parts.
ADVANTAGE
Protection against corrosion helps increase the overall engine durability.

Suzuki Water Detecting System
EXPLANATION
Designed to help protect the engine from moisture in the fuel utilizing a water detecting fuel filter to alert the operator with both visual and audio warnings when water is present in the fuel.
ADVANTAGE
Protects engine from poor combustion, lower power output, and corrosion.

MODEL
DF175A
RECOMMENDED TRANSOM HEIGHT mm (in.)
L:508 (20), X:635 (25)
STARTING SYSTEM
Electric
WEIGHT kg *1
L:235, X:240
ENGINE TYPE
DOHC 16-Valve
FUEL DELIVERY SYSTEM
Multi-Point Sequential Electronic Fuel Injection
NO. OF CYLINDERS
In-Line 4
PISTON DISPLACEMENT cm3 (cu.in.)
2,867 (174.9)
BORE × STROKE mm (in.)
97 × 97 (3.81× 3 .81)
MAXIMUM OUTPUT kW (PS)
129.0 (175)
FULL THROTTLE OPERATING RANGE rpm
5,500-6,100
STEERING
Remote
OIL PAN CAPACITY Lit. (U.S. qt)
8.0 (8.5)
IGNITION SYSTEM
Fully-transistorized
ALTERNATOR
12V 44A
ENGINE MOUNTING
Shear Mount
TRIM METHOD
Power Trim and Tilt
GEAR RATIO
2.50:1
GEAR SHIFT
F-N-R
EXHAUST
Through Prop Hub Exhaust
PROPELLER SELECTION (Pitch) *2
3 blades and 4 blades propeller are available.
15"-27.5"(R/R), 17"-26(C/R)
MODEL
DF150A
RECOMMENDED TRANSOM HEIGHT mm (in.)
L:508 (20), X:635 (25)
STARTING SYSTEM
Electric
WEIGHT kg *1
L:235, X:240
ENGINE TYPE
DOHC 16-Valve
FUEL DELIVERY SYSTEM
Multi-Point Sequential Electronic Fuel Injection
NO. OF CYLINDERS
In-Line 4
PISTON DISPLACEMENT cm3 (cu.in.)
2,867 (174.9)
BORE × STROKE mm (in.)
97 × 97 (3.81× 3 .81)
MAXIMUM OUTPUT kW (PS)
110.0 (150)
FULL THROTTLE OPERATING RANGE rpm
5,000-6,000
STEERING
Remote
OIL PAN CAPACITY Lit. (U.S. qt)
8.0 (8.5)
IGNITION SYSTEM
Fully-transistorized
ALTERNATOR
12V 44A
ENGINE MOUNTING
Shear Mount
TRIM METHOD
Power Trim and Tilt
GEAR RATIO
2.50:1
GEAR SHIFT
F-N-R
EXHAUST
Through Prop Hub Exhaust
PROPELLER SELECTION (Pitch) *2
3 blades and 4 blades propeller are available.
15"-27.5"(R/R), 17"-26(C/R)
Dry weight: not including propeller and engine oil
Please inquire at your local dealer for details of the propeller