DRIVE BY WIRE SERIES
POWERFUL V6 & IN-LINE 4
DF325A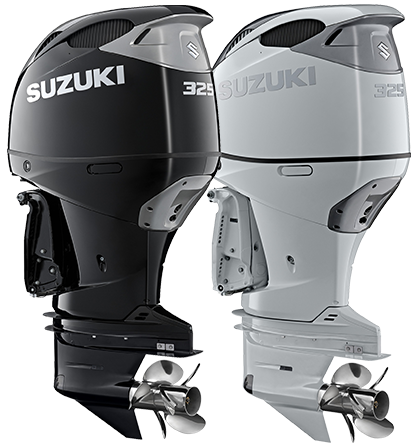 The high-tech and innovative DF325A has been designed to be robust, easy to use and versatile, making it the ideal outboard for large boats whatever the task.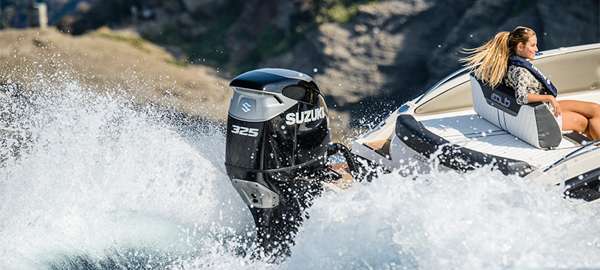 91 Ron Fuel
Our engineers set out to build a compact, lightweight outboard that combines the high power required, alongside the operating efficiencies that cannot be achieved by using technologies such as turbocharging or supercharging. Additionally, they set the goal of making the DF325A run on low octane, 91 RON fuel, which combined with legendary Suzuki reliability makes the outboard ideally suited for a wide variety of large boats around the world.
10.5:1 Compression Ratio
Our solution to developing 74 horsepower per liter in a V6 325 horsepower engine was to increase the compression ratio to 10.5:1, the highest compression ratio ever for a production outboard engine. In order to make this work without knocking (a typical problem at this ratio), we developed systems to mix cooler air with well-atomized fuel to provide optimal conditions for complete, and controlled combustion.
Direct Intake System And Dual Louver System
At high speed, water particles could be directed, trapped, and drained away.
Our experienced engineers worked on applying this theory to practice by increasing the intake flow to convert water vapor to particles and designing blades to capture and deflect those particles away from the intake flow. The Dual Louver System incorporates a double shield of blades, each one designed in a dog-leg shape. The outer row of blades removes the spray from the boat and the inner louvers capture and drain the remaining mist.
As a result, intake air temperature is free of moist and no higher than 10° above ambient.
Dual Injectors
Injecting fuel does two things, it atomizes the fuel and, incidentally, it cools the cylinder to minimize knock. To achieve the power we wanted, we needed to inject 100% of the fuel into the cylinder all at once, at a precise time, and at a precise angle to both cool the cylinder and to allow combustion to take place in the center of the combustion chamber.
The new Dual Injector System using two smaller injectors provided the required precision as well as improved atomization, increasing output by 3% without causing knocking.
Contra-Rotating Propeller
The contra-rotating propeller provides more "grip" underwater, and because contra-rotating props distribute the engine torque evenly over two propellers, the torque per propeller decreases and gear diameter can be reduced. This makes a reduction in gear diameter possible, which could then lead to the design of a smaller, more hydrodynamic gear case.
Propeller Blade Design
A new three-blade front/three-blade back propeller set-up was developed that provided improved performance on the water. This new set up provided not only the highest recorded speeds for the DF325A, but also delivered incredible acceleration, even under heavy load and at high rotation speeds.
Dual Water Intakes
On the DF325A, the best results were achieved when the main intake was positioned at the front of the gear case, with the secondary intake located just above the skeg. This was our ultimate solution to arranging the main and sub intakes as far apart from each other as possible, and designing them to ensure a reliable amount of cooling water, especially at high speeds.
Designing Stronger Reverse Thrust
The gear material was changed and heat treatment was added to endure the added thrust and inertial mass from the reverse thrust, which was stronger on a contra-rotating propeller. In addition, the reverse gear was moved above the cavitation plate and the position of the lower engine mounts was modified from parallel to V-shape to fit the reverse gear above the cavitation plate.
Better Steering In All Directions
Normally, when using multiple outboards a combination of standard and counter-rotating engines is mounted. The Suzuki Selective Rotation, available on our AP series outboards, eliminates the need for different models, as any model can be easily programmed to run in either direction. The DF325A's contra-rotating propeller technology takes this process one step further by eliminating steering torque and maximizing true and straight propulsion forces.
Suzuki Dual Prop System
The dual prop system efficiently turns 325 horsepower output into propulsion under water.
As an added benefit, because each propeller rotates in a different direction, exceptional stability is achieved.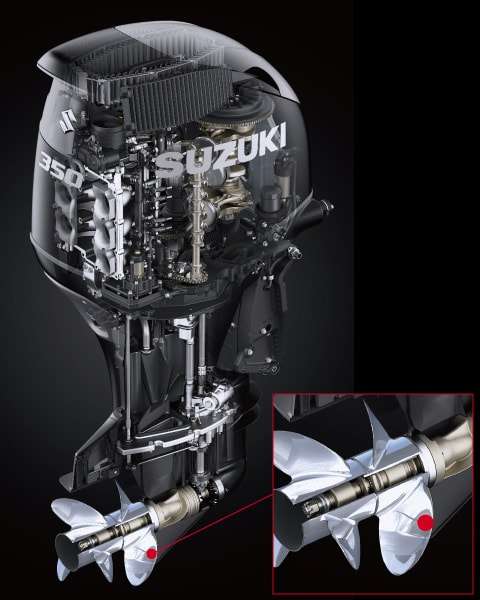 Suzuki Dual Louver System
The DF325A is equipped with a double louver at the air intake to remove water from the air taken into cowl.
The double louver removes water from the air. Incorporating a direct intake system, Suzuki's dual louver system contributes to higher engine output.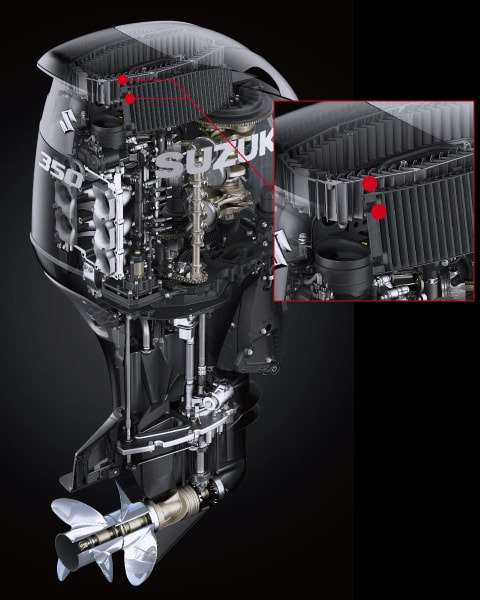 Dual Injector
Dual injectors deliver just the right amount of fuel at just the right time into the cylinder.
This dual injector contributes to higher output and better fuel efficiency.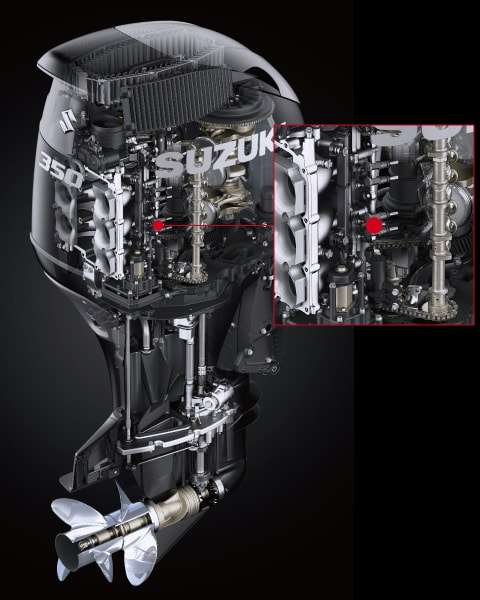 Offset Driveshaft
The Offset Driveshaft allows us to make our engines smaller by moving the outboard's centre of gravity forward, while improving weight distribution, power output, balance and reducing vibration.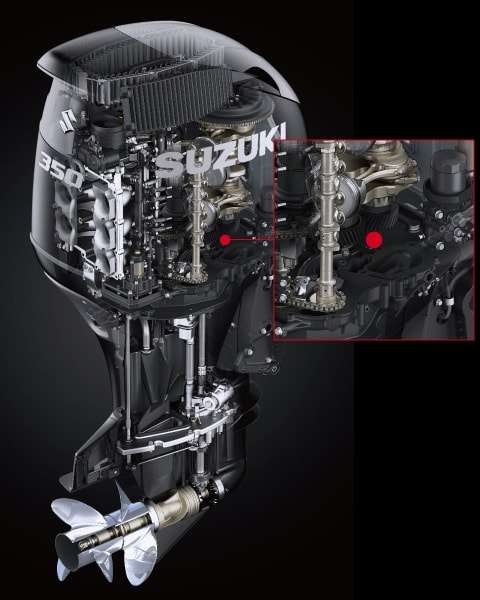 2-Stage Gear Reduction
The DF325A outboard also incorporates a 2-Stage Gear Reduction which results in a large reduction gear ratio. It delivers powerful torque for quick acceleration and great top-end speed.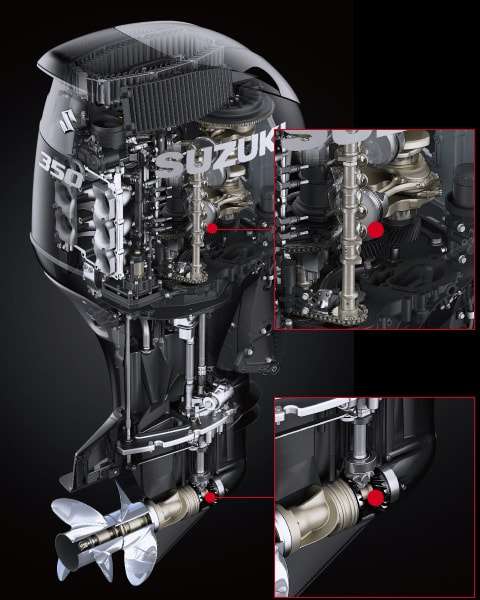 Direct Air Intake 
A new engine cover design provides the direct intake system with a smoother, cooler flow of air boosting engine operating efficiency.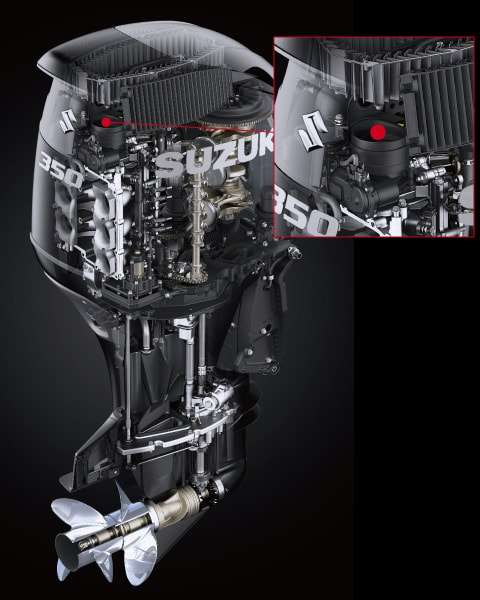 Lean Burn
Fuel efficiency matters whether you're boating for pleasure or profit. Our Lean Burn Fuel Control Technology predicts fuel needs according to operating conditions, then delivers the optimum fuel/air mixture to the engine. The system is designed to save fuel both at low speeds and up into the cruising range.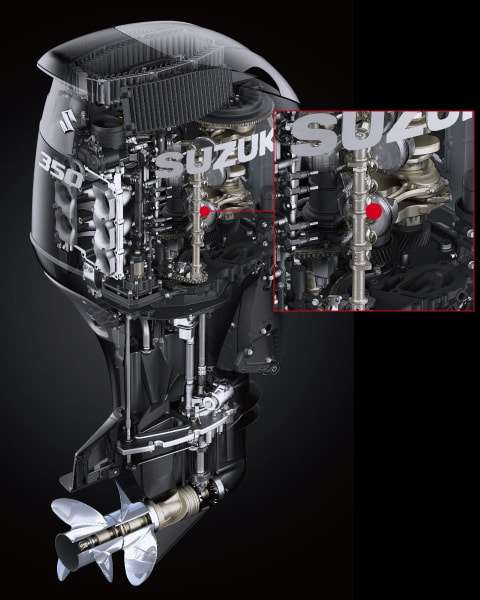 Suzuki Precision Control(Electronic Throttle And Shift System)
Our sophisticated drive-by-wire system eliminates the friction and resistance of mechanical control cables. This gives smooth, precise control with crisp, immediate shifting, particularly at low revs and when maneuvering. The system can be configured with single, twin or triple installations, and for dual stations. Combined with our Lean Burn Control System, it helps improve fuel efficiency over a wide operating range.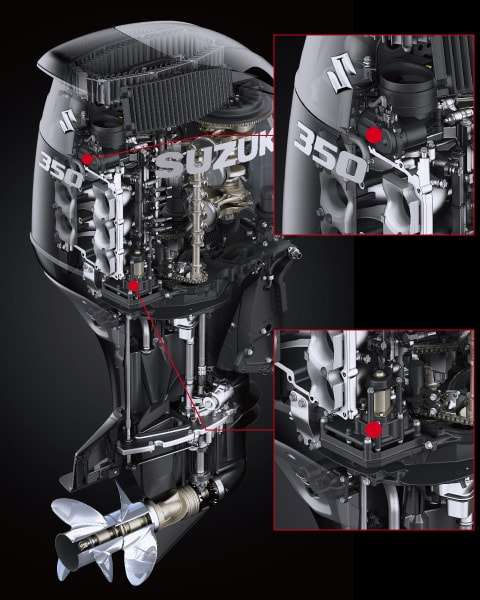 Variable Valve Timing System(VVT)
Variable Valve Timing is used to vary intake timing with the camshaft to optimize timing for low to mid-range operation. This allows the engine to deliver maximum power output across its entire operating range producing greater low to mid-range torque for powerful acceleration. The entire process happens automatically leaving you to enjoy the power and performance.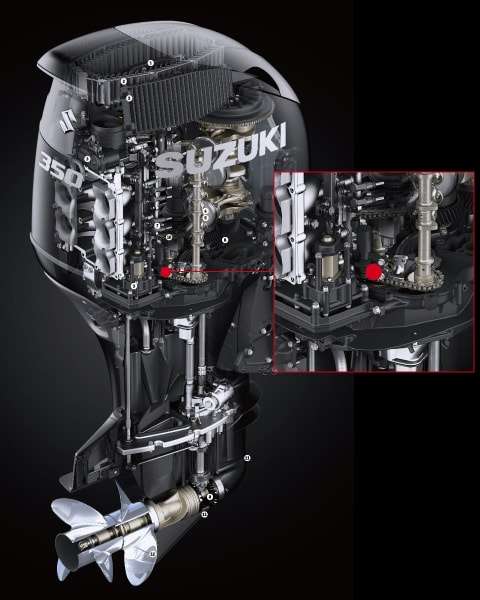 Self-Adjusting Timing Chain
The timing chain runs in an oil-bath, so it never needs lubricating, and is equipped with an automatic hydraulic tensioner, so it remains properly adjusted at all times. Simple, effective and maintenance-free.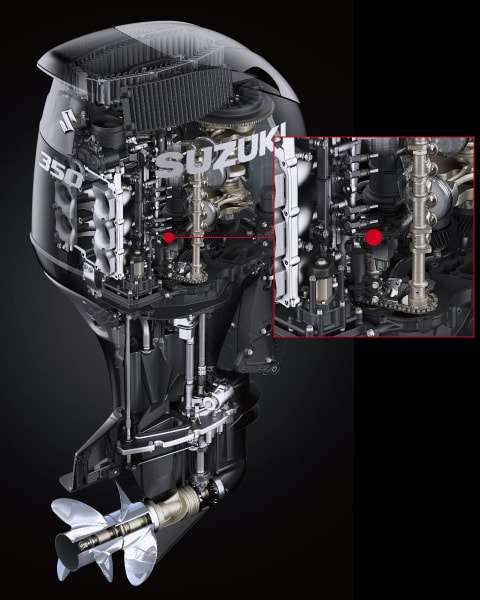 Dual Water Inlet
The engine's cooling system relies on water supplied through low water intakes located on the lower unit. Utilizing this dual low water inlet configuration increases water flow into the lower unit, delivering greater cooling efficiency. Positioning the forward inlet by the gear case nose delivers a greater water supply, especially at high speeds. The second inlet is also positioned lower allowing the DF325A to operate in shallow water.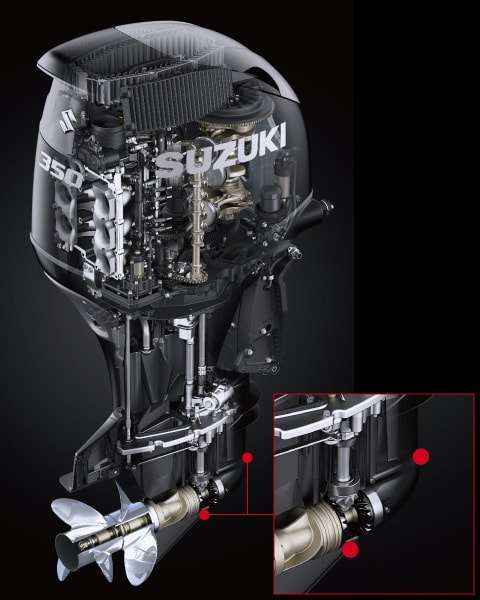 Oil Filter
The location of oil filter is easy for maintenance.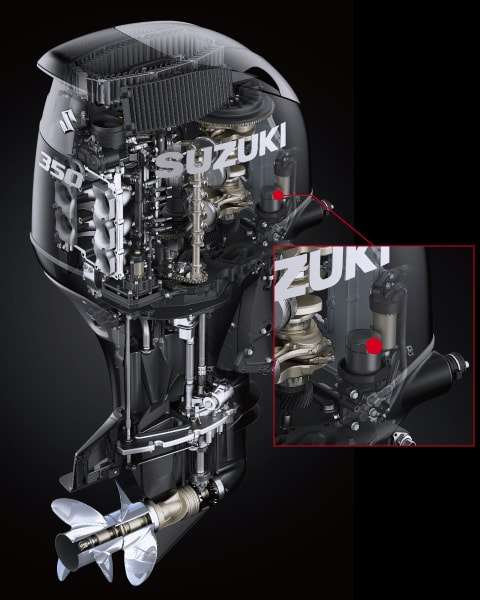 MODEL
DF325A
RECOMMENDED TRANSOM HEIGHT mm
X:635, XX:762
STARTING SYSTEM
Electric
WEIGHT kg *1
X: 330, XX: 339
ENGINE TYPE
V6 - 55° DOHC 24-Valve
FUEL DELIVERY SYSTEM
Electronic Fuel Injection
NO. OF CYLINDERS
6
PISTON DISPLACEMENT cm3
4,390
BORE ×STROKE mm
98 x 97
MAXIMUM OUTPUT kW
239.0
FULL THROTTLE OPERATING RANGE rpm
5,300-6,300
STEERING
Remote
OIL PAN CAPACITY Lit.
8.0
IGNITION SYSTEM
Fully-transistorized
ALTERNATOR
12V 54A
ENGINE MOUNTING
Shear Mount
TRIM METHOD
Power Trim and Tilt
GEAR RATIO
2.29:1
GEAR SHIFT
F-N-R (Drive-by-wire)
EXHAUST
Through Prop Hub Exhaust
PROPELLER SELECTION (Pitch)*2
All propellers are the 3-blade type
15"-31.5"
Dry weight: not including propeller and engine oil
Please inquire at your local dealer for details of the propeller
The appearance, colors, and equipment of outboard motors may differ according to market and grade.
Specifications may change without prior notice.
*Manufacture data
DF325A VIDEO